Product Description
SIZE 50A Coupling Excavator Parts Flexible Rubber Coupling For DL200TC
 
Basic information:
| | |
| --- | --- |
| Condition | OEM/Original |
| Place of Origin | ZheJiang  China (Mainland) |
| Parts Number | All the parts, just send the pump number to me and will check |
| Structure | AS/A/Bowex/Gear |
| Function | Connect Different Parts |
| Sales type | Retail, Wholesale |
| Condition | New |
| Transportation | Air transportation, Ship/Air Transportation, Express Delivery, Follow clients |
| Advantage | Flexible, Lower Noise |
Product show as below:
 About us:
specialized in:
couplings, rubber mounts, gera parts, hydraulic seals and seal kits for hydraulic hammers, rock breakers, hydraulic excavators,wheel loaders, and JCB badkhoe loaders.
And, Our company also supply:
Engine parts, hydraulic piston pump and hydraulic travel motor, Swing motor assembly and hydraulic component parts, electric parts, etc. Hydraulic hammer breaker parts with piston, cylinder, chisel, through bolt, side bolt, top bush, front head bushing,accumlator, valve, etc.
We always try our best for all our customers and make it better and better. Welcome!
FAQ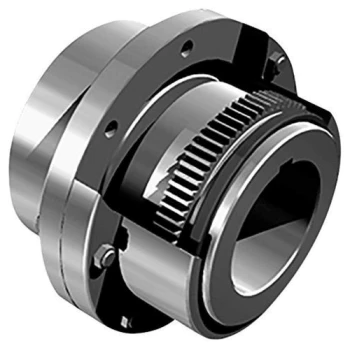 Can Gear Couplings Accommodate High Torque and High-Speed Applications?
Yes, gear couplings are well-suited for high torque and high-speed applications in various industries. They are designed to transmit large amounts of torque efficiently while providing torsional rigidity and compensating for misalignment between shafts. The robust construction and unique toothed gear design of gear couplings allow them to handle heavy-duty and demanding operating conditions.
The key factors that enable gear couplings to accommodate high torque and high-speed applications are:
Sturdy Construction: Gear couplings are typically made from high-quality materials such as steel or alloy, ensuring strength, durability, and the ability to withstand substantial torque loads without failure.
High Torque Capacity: The toothed gear design of gear couplings allows for a large surface area of contact between the teeth, distributing torque evenly and effectively. This design significantly enhances the coupling's torque-carrying capacity.
Torsional Rigidity: Gear couplings offer excellent torsional rigidity, meaning they can resist angular deflection and maintain accurate torque transmission even under heavy loads and at high speeds.
High-Speed Balancing: Gear couplings are precisely balanced during manufacturing to minimize vibration and prevent harmful effects on connected equipment, even when operating at high speeds.
Misalignment Compensation: Gear couplings can accommodate both angular and parallel misalignment between shafts, which is common in high-speed applications where thermal expansion and dynamic forces come into play.
Lubrication: Proper lubrication is crucial for reducing friction and wear in gear couplings, especially in high-speed applications where heat generation is higher. Lubrication also helps dissipate heat and ensures smooth operation.
Due to their ability to handle high torque and high speeds, gear couplings are commonly used in various industries, including steel, mining, power generation, paper mills, and more. However, it is essential to select the right size and type of gear coupling based on the specific application requirements and operating conditions to ensure optimal performance and reliability.



editor by CX 2023-08-07