Product Description
Material

20CrMn5,20CrMnTi,40Cr,Powder deposit,45#steel,42CrMo,Stainless steel and so on as per your requests.

Custom

OEM/ODM

Lead Time

Sample: 20-30 days after deposit received, Batch goods: 30-45days after samples have been approved. Die opening product:7-15days after samples have been approved.It takes 45-60 days to open the mold.

Processing

Forging,Machining,Hobbing,Milling,Shaving,Grinding teeth, inserting teeth, shot blasting, Grinding,Heat treatment……

Heat Treatment

Intermediate frequency, high frequency, tempering, desalinating, carburizing……

Main Machines

CNC gear hobbing machine, CNC gear cutting machine, CNC lathe, CNC gear shaving machine, CNC gear milling machine, CNC gear grinding machine, CNC Grinding Machine….
..
Ruika has been engaged in manufacturing of forgings, castings, heat treatment and CNC machining parts since 1999.  
The products materials have passed EN15714-3.1 certification, covering various grades of: low carbon steel, alloy steel, stainless steel, ductile iron, aluminum alloy, copper alloy, titanium alloy. 
The main processes are: free forging, die forging, rolling ring, high pressure casting, centrifugal casting, normalizing, quenching and tempering, solution treatment, aging treatment, carbonitriding, turning, milling, drilling, grinding, hobbing, high frequency quenching, galvanizing, chrome plating, anodizing, powder spraying and other processes.
Rings and plates dimensions: Max 3000mm, shafts length: Max 12000mm, single piece weight: Max 16 Tons, at the same time we are good at terminal machining of complex products, dimension accuracy: Min 0.01mm, roughness: Min Ra0.6. 
Products can be strictly examined by chemical composition, tensile strength, yield strength, reduction of area, impact at low temperature, intergranular corrosion, hardness, metallographic, NDT, size, static balance etc performance parameter. 
Products are widely used in: aerospace, ships, trains, automobiles, engineering vehicles, chemical industry and petroleum refining, wellheads, x-mas tree equipment, mining machinery, food machinery, hydraulic and wind power generation, new energy equipment etc field. 
Welcome to send: PDF, IGS, STP and other format drawings, of course we could also make material judgment and size survey according to your samples. 
With more than 20 years of manufacturing experience and overseas sales team, we have achieved 100% customer satisfaction. The warranty period of products sold is 365 days. We look CZPT to your consultation and cooperation at any time and common prosperity development.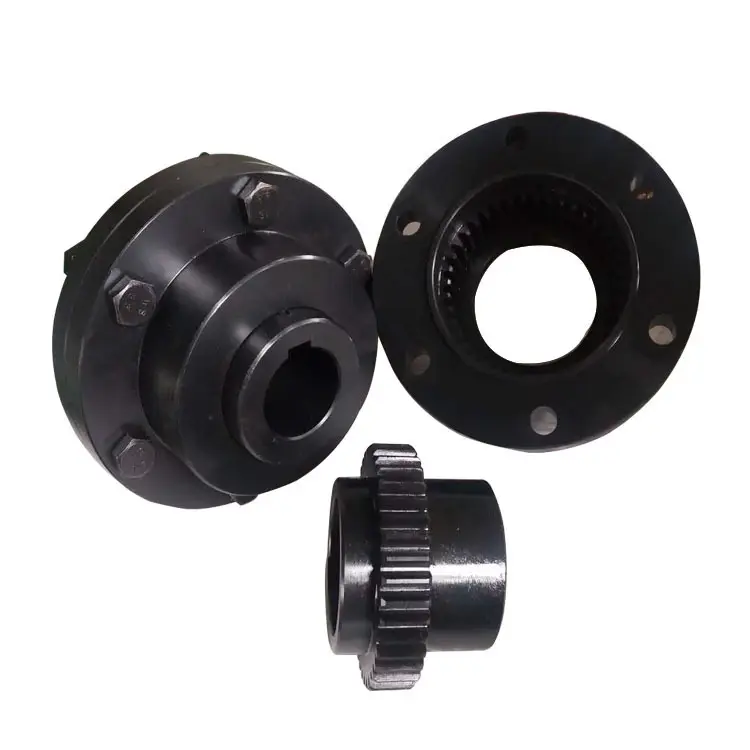 Comparing Performance of Gear Couplings with Other Types of Couplings
Gear couplings offer several advantages and unique features compared to other types of couplings, which contribute to their overall performance:
High Torque Capacity: Gear couplings have a high torque capacity, making them suitable for heavy-duty and high-power applications. They can transmit torque efficiently without compromising the integrity of the coupling.
Misalignment Tolerance: Gear couplings can accommodate a certain degree of misalignment, including angular, parallel, and axial misalignment, providing flexibility in various mechanical systems.
Compact Design: Gear couplings have a compact design, allowing them to fit into tight spaces while transmitting substantial power.
Durable and Long-lasting: Gear couplings are known for their durability and long service life, even in demanding operating conditions. Proper maintenance and lubrication can extend their lifespan further.
High-Speed Capability: Gear couplings are suitable for high-speed applications, making them ideal for use in various industrial machinery.
Low Maintenance: Once installed correctly and provided with adequate maintenance, gear couplings are relatively low maintenance compared to other couplings.
Wide Range of Sizes: Gear couplings are available in various sizes, allowing users to select the appropriate coupling for their specific application.
However, gear couplings may have some limitations. For instance, they are not entirely backlash-free, meaning they may exhibit a small amount of rotational play between the gears. In some cases, this can lead to vibration or noise in the system. Additionally, gear couplings may not be suitable for applications with extreme misalignment or in environments with high levels of shock or impact loads.
When choosing a coupling, it is essential to consider the specific requirements of the application and weigh the advantages and disadvantages of gear couplings against other types of couplings, such as elastomeric, grid, or disc couplings. Each type of coupling has its strengths and weaknesses, and the best choice depends on the unique needs of the mechanical system.



editor by CX 2023-08-15